About MetaFrame
Citrix MetaFrame™ application server software is enabling organizations to achieve "Digital Independence™" from the cost and complexity of traditional computing by transforming the way they deploy, manage and access applications. MetaFrame extends the functionality of Microsoft Windows NT Server 4.0, Terminal Server Edition and Microsoft Windows 2000 ® Servers by providing enterprise management and Web-enablement of applications, and access from any location or device, over any network connection - wireless to Web.
Unjuk Kerja thin client , sepenuhnya tergantung pada Citrix Server
Oleh karena itu monitor proses yang sedang berjalan, pemakai yang sedang online penting untuk mengendalikan Citrix Server.
Cara yang umum dilakukan melalui Task Manager , kemudian memilih kolom-kolom sorting untuk aplikasi (image name), User, atau CPU
Beban CPU, untuk seluruh proses dapat dilihat pada bahagian bawah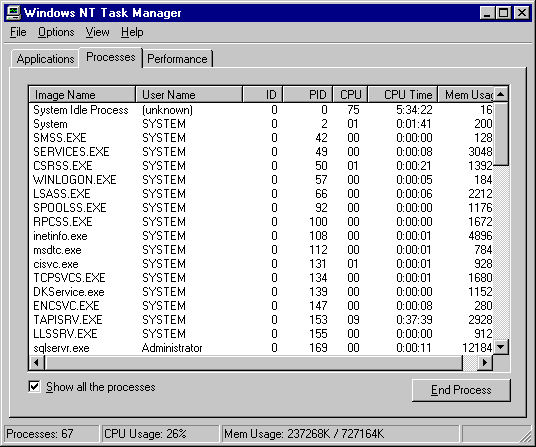 Jika Kolom Performance diklik, maka unjuk kerja server secara online dapat dilihat sbb